This is an archived article and the information in the article may be outdated. Please look at the time stamp on the story to see when it was last updated.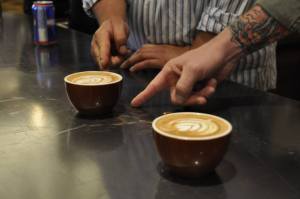 Yet another study has come forth, this time from the World Cancer Research Fund, that indicates there are health benefits from being a coffee drinker.
WCRF's 2015 report on liver cancer compiled analysis from 34 different scientific studies, with data coming from more than 8,000,000 people and 24,600 cases of liver cancer.
Researchers found that those who drink coffee are 29% less likely to develop the disease than non-coffee drinkers. The studies also revealed that coffee consumption may reduce the risk of multiple sclerosis, Alzheimer's disease and Parkinson's disease.
Researchers are currently not sure why coffee is correlated with these health benefits, and want to study its properties more closely.
While these coffee studies roll on out, we find more bad news for diet soda.
A new study published in the Journal of the American Geriatrics Society reveals that people who regularly drink diet soda over a nine-year period packed on almost three times the belly fat than those who passed on the beverage.
Like coffee, scientists are still unsure as to what is causing this correlation between diet soda and belly fat, but some theorize artificial sweetener may increase appetite.
CNN Contributed to this report.