This is an archived article and the information in the article may be outdated. Please look at the time stamp on the story to see when it was last updated.
OAKLAND-
A new study released Monday by Kaiser Permanente has revealed the most "underimmunized" areas of northern California.
The study was published Monday in the journal "Pediatrics."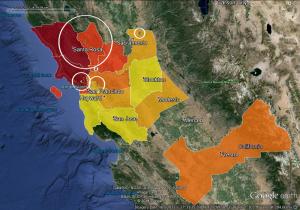 Analyzing health records within Kaiser of children born between 2000 and 2011, experts found areas of underimmunization and areas of the most "vaccine refusal," or wherever parents decide to not vaccinate their kids.
Experts defined underimmunization as when a child misses at least one vaccine dose before the age of three.
Underimmunized areas included parts of the East Bay, Sonoma and Napa counties, a small area east of Sacramento, northern San Francisco and southern Marin counties and a small part of Vallejo.
Underimmunzation rates ranged from 18 to 23 percent, compared to 11 percent elsewhere.
Areas of vaccine refusal is included parts of the East Bay, Marin and southwestern Sonoma counties, northeastern San Francisco, northeastern Sacramento County and Roseville, and a small area south of Sacramento.
Vaccine refusal rates ranged from 5.5 percent to 13.5 percent, compared to 2.6 percent elsewhere.
To read the full Pediatrics report, click here.