This is an archived article and the information in the article may be outdated. Please look at the time stamp on the story to see when it was last updated.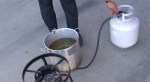 SACRAMENTO –
Thirty percent of house fires start in the kitchen, says Sacramento Firefighter Thomas Mabra.
Mabra has been deep frying turkeys for the last 12 years and says they've become more popular over the last five years.
Here are his top 6 tips for preventing a fire when deep frying a turkey:
1. Make sure there's a lot of space above and around your turkey. It should be fried outside- not in a kitchen.
2. Never leave a frying turkey unattended
3. Flammable liquids, propane, and alcohol do not mix. Don't try to cook a turkey when  intoxicated
4. Don't wear loose clothing when frying turkey
5. Don't drop a wet, frozen, or partially frozen turkey into hot oil. Pat the turkey dry with a towel. You can put a dry rub on too before you drop it in
6. Always have a fire extinguisher handy