This is an archived article and the information in the article may be outdated. Please look at the time stamp on the story to see when it was last updated.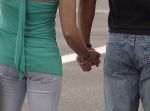 SACRAMENTO-
A website that matches older men with younger women is offering to pay for three Sacramento-area couples to get divorced.
According to a press release from SugarDaddie.com, the CEO said he heard a lot of complaints about the expense of divorce. He cited the website AttorneyFee.com, which ranked California as the most expensive place to file for divorce.
The website will pay for an uncontested divorce, which includes California-specific documents, settlement agreement and parenting plan and schedule if needed.
Anyone who is interested in the offer can submit their reasons for wanting a divorce to Darren@PopCulturePR.com. Submissions must be in by 5 p.m. on July 31 to be considered by SugarDaddie.com.
What do you think of the website's offer? Leave your comments below.