This is an archived article and the information in the article may be outdated. Please look at the time stamp on the story to see when it was last updated.
"I am trying so hard to be chill right now," my girlfriend, May, said several times during our most recent getaway.

May is a voracious researcher when it comes to trips. At any given moment while planning a vacation, she has a handful of browser tabs open – telling her everything about our destination.

Our normal July getaway, historically, has been to San Diego to attend Comic-Con. That trip became increasingly crowded and stressful, leading us to utter the insanely annoying phrase, "I need a vacation from my vacation."

COMIC-CON OBSERVATION: It's great if you love crowds and standing in line.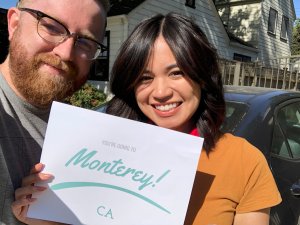 This is partly why we decided on a mystery trip for her 30th birthday.
Pack Up & Go is essentially a travel agency that plans your trip for you but doesn't tell you where you're going until it's time to leave. So you have to try really hard to be chill.
You tell the website what your interests are, where your last three trips took you, the type of trip you're looking for – whether it's relaxing, adventurous or somewhere in between – and any dietary preferences or restrictions.
About a week before the trip, Pack Up & Go sends you an email with the forecast and a few hints about your destination. Then, a couple days before your trip, they mail you an envelope containing your destination, lodging and recommendations for food and activities.
The envelope came and it sat on our table, taunting us. I must admit that I was not very chill. I opened the envelope a few days early -- something I regret doing.
Our destination was Monterey, a place we love but have not been to in years, but Pack Up & Go planned stops for us along the way. All of those stops, of course, were optional.
Our normal road trip routine is to stop wherever it's convenient to use the restroom or grab a cup of coffee, so we normally end up just stopping at a Starbucks.
So it was nice that Pack Up & Go recommended us a nice independent coffee shop in Martinez called Barrelista. The food was good (we both got the turkey sandwich) and the drinks were amazing (I had a cold brew with no ice and she had a chilled hibiscus tea).
MARTINEZ OBSERVATION: If one street is closed for construction, downtown Martinez turns into an inescapable maze.
Our next stop, since May is a huge fan of frozen treats, was a place called Icicles in San Jose. Rolled ice cream is a huge trend right now but we hadn't gone to get any until our visit to Icicles (we've come to find out there are locations all around Northern California). They have quite a few dairy-free options, which is nice.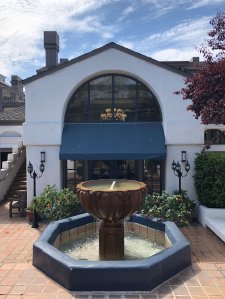 From there, we opted to head straight to Monterey even though more stops were suggested.
Our hotel in Monterey was very nice, even though the guest staying above us was seemingly practicing the Riverdance all night. Doing the math, our room at the hotel for both nights cost about the same as what we paid Pack Up & Go.
MONTEREY OBSERVATION: There is a free shuttle that goes from old town to downtown to the aquarium to the wharf. It's very helpful.
Thankfully we didn't stay in Cannery Row, which is too crowded and, to us, the wrong kind of kitschy. We visited that area long enough to have an outrageously big breakfast at First Awakenings and enjoy the Monterey Bay Aquarium.
MONTEREY OBSERVATION: Seemingly every restaurant in Monterey has someone outside passing out samples of clam chowder, all claiming to have the best clam chowder. Like, a shot glass of clam chowder. Do clever tourists collect them to have a flight of chowder? Thinking about this gave me a stomach ache.
Our highlights during our stay were Alvarado Street Brewing (we actually went twice), Revival Ice Cream (which had amazing dairy-free flavors), Paluca Trattoria (the restaurant from HBO's "Big Little Lies"), Water and Leaves (a nice cafe place that brews your tea in some insane Breaking Bad-esque chemistry set), and the Salvador Dali museum (seriously don't miss this).
This slideshow requires JavaScript.
On our way home, we decided to spend an hour or two going through the 17-Mile Drive in Carmel, which was gorgeous.
Pack Up & Go recommended one last stop on the way home -- Blaker Brewing in Ceres. They've only been open since January but already have a handful of tasty beers available, with their more popular options canned in four-packs.
CERES OBSERVATION: Having spent two days on the coast… Oh my god, Ceres is hot.
All in all, May and I agree our Pack Up & Go trip was a success. We'd even like to try it to fly somewhere.
I'm curious to see how it works with groups or with families. It's safe to assume moms and dads would want a little more control over their destination.
Still, whether you use a service like this or not, to us it was a great lesson in *being chill* on vacation -- a great lesson in not overplanning and going with the flow, which is exactly what a relaxing vacation should be.