This is an archived article and the information in the article may be outdated. Please look at the time stamp on the story to see when it was last updated.
SACRAMENTO-
All his life, Executive Director of Sacramento's Gender Health Center Ben Hudson only had two choices when picking a gender whether on forms or on Facebook.
"Male and female is very binary," Hudson said.
That is why social media giant Facebook is now giving Hudson and others like him 50 other options.
"There are so many people in our lives or community who identify in the middle grounds," Hudson said.
Hudson says the LGBT community has long wanted to pull away from male-female organs as a way of defining gender.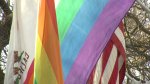 "For the most part, it is what is important to that individual that when they see that word they know that describes me. That is who I am and that is how I want to let other people know who I am," Hudson said.
Among the options are "trans male," "trans female" and "gender fluid."
And to protect its 1.23 billion monthly users, members can choose which groups they want to view their gender choice.
For members of the LGBT community – the internet has changed what it means to grow up gay.
"As social media came along, it again had the opportunity to create connectivity with other people and meet people who are a reflection of you," Hudson said.
While other sites like Google+ offer "male", "female" and "other" as choices, transgender advocates say Facebook's options makes them the leader in the march toward equality.