This is an archived article and the information in the article may be outdated. Please look at the time stamp on the story to see when it was last updated.
SACRAMENTO-
Ever heard any of these pick-up lines?
"Do you have something in your eye… oh wait, it's just a sparkle."
"You're so beautiful you made me forget my pick-up line."
"Are you a parking ticket? Because you got fine written all over you."
Chances are, if you're out there in the flirtation nation, you've heard worse. Eye-to-eye. Lips to cell. Text at our fingertips. Never have so many had so much power to speak, but so few the power to make worthwhile conversation.
That's where 33-year-old Bryan Barton figures he comes in.
"Um, well, should I use my pick-up name?" he asked me at this point.
Sure Bryan, go ahead.
"My name's Double B.  I run a pick-up boot camp in Sacramento," he said.
Wait. You're saying you've never heard of pick-up?
"I have seen people definitely using these methods," said Cienna Ball of Sacramento.
Let's listen in on one of Barton's lectures to get an idea for what kind of methods we're talking about here. In this class he was teaching his students how to use a "neg."
"Why don't we go ahead and practice our 'negs' with each other? Even very beautiful women have flaws. Everyone has flaws, except for me. It's an insult wrapped in a compliment, and it's basically to say I know you're here, but I'm not in awe of you," Barton explains.
Master tactics like the "neg," and the advertising for Barton's Bootcamp boasts, Sacramento women will be fawning over you.
But is this sexy or sinister? Is it implicitly superficial? Is it, in the end, actually a barrier to having a deeper relationship with a woman of a guy's dreams?
"Women wear make-up. And so, basically, I teach men how to put their best foot forward," Barton said.
And there are plenty of guys feeling the pressure to put that foot forward.
"Because women know guys that aren't good at picking up girls. They talk about it in their little girl groups they'll be like 'that guy's so good' or 'that guy's so bad,'" said Gabe Barajas, a student of Barton's.
Here's how Barton works: he takes his class to a public place, approaches a woman, and tells her he's running a psychology class. Then, when he finds a woman who agrees to play along, he gives his student a topic and observes that student in conversation with the "subject."
One night, we were watching Barton do what he does; we weren't the only ones. Cienna Bell was sitting at a  table nearby. She's a woman who's seen pick up artists at work before, and knew right away what Barton was doing. So we asked her what she thought.
"Yeah, he definitely did a good job," Bell said.
So we wanted to know if she thought there was something implicitly offensive about the concept.
"Not to me because girls have their own tactics, too.  I mean if a woman sees a guy, what is she thinking? She can be thinking 'Well is he handsome. Does he have money? does he have these things?' There are tactics there too," Bell said.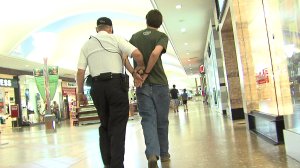 But Barton's tactics are getting him attention from more than just the ladies…
On one of the nights we followed Barton, security officers or police interrupt the lesson.
"I'll get all the guards here and all the cops I know to kick your ass out. Now go. You're like my kid, I'm gonna have to count to three. Get over there and do it or get the hell out," said a Sunrise Mall security guard said, after he saw Barton approaching women.
Barton's usual tactic in that situation is to stand his ground.
"I'm very aware of first amendment law. The first amendment was the first amendment for a reason. The founding fathers believed in the freedom to flirt," Barton said.
But it doesn't always work. Across town, at Arden Fair Mall, they've already told Barton not to come back.
"When I was teenager, I went to shopping malls. Girls were there shopping and you wanted to meet girls. But when you cross that line where you're actually harassing them, making them feel uncomfortable, saying in appropriate things or its age inappropriate. Zero tolerance," said Steve Reed, head of security at Arden Fair.
Still, Barton's students stick around.
"I mean, security's just tripping really," said one student.
And those students really believe it works- that once they're done, they'll get more phone numbers, more dates, and more, well, willingness.
But if it works, it seems to be evidence against free will, or at the least evidence that people like to be manipulated.
"And both of those are sort of depressing," I told Barton. "Is there something we're not considering about how this functions?
Barton said that's not the case.
"There's nothing in any of my classes that's about manipulation. I want to make that very clear. What the pick-up game is about is putting your best self forward," he said.
O.K. As long as you're behind the notion that having good game and being a good guy are one in the same.