This is an archived article and the information in the article may be outdated. Please look at the time stamp on the story to see when it was last updated.
Chef Krisztian Karkus whips up a roasted pork tenderloin for Paul Robins to sample. The dish is part of the Masters Winemaker Dinner Series at The Meritage Resort and Spa. Here's how you can make dish at home.
Roasted Pork Tenderloin
With Summer Squash and Corn Succotash
· 1 ea pork Tenderloin sliced into 2-3oz portions
· 2 tbsp flour
· Salt, Pepper to taste
· 2 ea yellow corn cut from the ear
· 1 ea zucchini
· 1 ea squash (summer heirloom varieties are the best)
· 1 cup flour
· 1 cup heavy cream
· 1 tbsp brandy
· 1 ea yellow onion small diced
· 1 cup oyster mushrooms
· 1 tsp lemon juice
· 2 tbsp olive oil
Method:
Pound the pork medallions lightly with a mallet and season both sides with salt and pepper then roll them into flour coating both sides of the meat.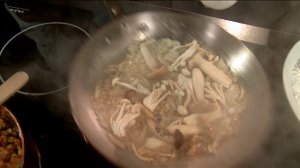 Heat a sauté pan with the olive oil and place the medallion into it. Sear both sides until golden brown and set aside. In the same pan, place the diced onions and cook it until translucent then place the mushroom into the pan. Add the lemon juice, brandy and the cream and simmer for about 4 minutes. Place the medallions back to the sauce and simmer another 4 minutes until completely done.
Heat another sauté pan and place the second half of the diced onions and cook it until translucent. Dice the zucchini, squash into ½ inch size and cook in high heat until start to get a nice roasted color. Add the corn and cook it until all get a nice roasted color and finish with a handful of chopped parsley.
Place the succotash onto a plate and top with the pork medallion and place some of the mushroom sauce on top.