This is an archived article and the information in the article may be outdated. Please look at the time stamp on the story to see when it was last updated.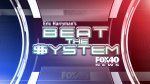 SACRAMENTO-
Hidden fees are the worst, right?
Below are some common fees you might not even know you're paying.
First, we'll take a look at cell phone bills. Be on the lookout for over-limit fees, plus taxes and government surcharges.
Next, mortgages. There are fees for paying extra, for paying online and paying automatically.
Finally, airlines. Of course you know about baggage fees, but you should also be wary of fees for certain seat selections and boarding priorities.
For more on hidden fees, check out this blog post from Three Thrifty Guys.