This is an archived article and the information in the article may be outdated. Please look at the time stamp on the story to see when it was last updated.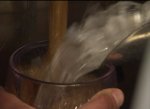 SACRAMENTO-
If you're looking to save a little money on your restaurant bill, the first place you should start is your drink.
Let's say you and a friend go out to lunch and spend $20 on food. Both of you drink water. You like the service and tip 20 percent, making the final bill $24.
Say you have the same lunch, but order a soda or an iced tea, assuming each is priced at $3. That makes your bill $26, before the tip. With the same tip as before, you're paying $31.
That's an extra $7 for just two sodas.
Next time you're out to eat but not hoping to spend much, take a look at your drink order.