This is an archived article and the information in the article may be outdated. Please look at the time stamp on the story to see when it was last updated.
SACRAMENTO-
When you cash in your cans and bottles at a recycling center, you might assume you're getting full redemption value but not all recycling refunds are created equal.
We took three bags, each containing 50 identical plastic Arrowhead water bottles with no lids.  We made sure the containers are empty and completely dry, and we counted each load twice to be certain there is no difference between them.
The only thing left was to cash them in. We paid a casual visit to three different recycling centers in Sacramento, each advertising the refund value for "number one" plastic at $1.06 per pound.
We stopped by a center on Fruitridge Road, another one behind Raley's on Natomas Boulevard And a third location behind the Valero gas station on Howe Avenue.
At each place, we submitted our bottles in a large plastic bin provided by the recycling center. They are required to adjust their scales so the weight of the bin is not counted.
On Fruitridge Road, our containers weighed in at just over a pound, and we were paid $1.16.
The recycling center on Natomas Boulevard gave us a similar payout – $1.17.
On Howe Avenue, we only got $1.06.
Those refunds were based on weight but in California, if you bring 50 or fewer containers of each type to a recycling center, you have the right to ask to have them counted instead of weighed.  By count, these bottles are worth five cents each.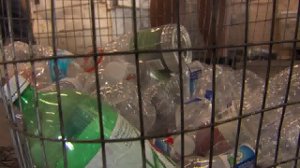 At the recycling center of Fruitridge Road, the attendant offered to count our containers the first time we visited.  This time, with another identical bag of bottles, we took him up on it.  Fifty containers counted at five cents apiece netted us a much better refund.
So, we've learned that identical loads of plastic bottles can net you anywhere from $1.06 to $2.50.
We presented our findings to Mark Oldfield of CalRecycle, the agency that manages the programs.  First, we talked about the different payouts we received by weight.
"If you're getting a different payout from three different recycling centers, it's likely that the scales are not all calibrated the same," Oldfield said. "The local county Department of Weights and Measures would look into something like that."
He says CalRecyle conducts regular investigations and if they find a scale set improperly, they do report it to Weights and Measures, where consumers can also file complaints.
Next, we asked Oldfield about the wide difference between the weight-based payout we received, and the one we got based on count.
"It's very challenging to come up with a one size fits all minimum per pound payout," Oldfield said. "It's because there are so many different shapes, sizes, and weights of plastic."
It turns out the Arrowhead containers we cashed in are the lightest, thinnest type of plastic bottle.  The state looks at the entire universe of number one plastic containers when they set refund rates.
Others much thicker, weighing probably more than twice as much as an Arrowhead bottle.
Both are in the category of number one plastic.
"What would be in a typical mix is what we base that minimum per pound rate on," Oldfield said. "That's why it's so important for consumers to be aware of their option of being paid by count, in particular if they use a lot of the lighter-weight plastics."
You just have to be willing to cash in your containers 50 at a time if you want them counted.  That limit is designed to strike a balance between consumer benefit and business efficiency.
"Nobody wants to stand in line while the center operator counts three large bags full of bottles or cans," Oldfield said.
But it doesn't hurt to ask to have a few extras counted.  It is your money, and it's not just what you recycle, it's how you go about doing it that can maximize your cash back.
There's a lot of information about recycling and the cash value of containers on the CalRecycle website.