This is an archived article and the information in the article may be outdated. Please look at the time stamp on the story to see when it was last updated.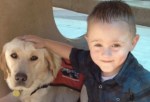 Zohreen Adamjee talked to the folks from Pawsitive Dog Solutions about how dogs have helped people with special needs.
Watch the segment live on FOX40 Tuesday at 8:45 a.m. or check back Tuesday afternoon to see the video clip.