This is an archived article and the information in the article may be outdated. Please look at the time stamp on the story to see when it was last updated.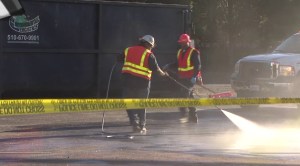 SUISUN CITY–
Suisun Police say around 5 this morning a big rig heading westbound on Highway 12 collided with another semi-truck near Emperor Drive.
The driver in the rear truck was unresponsive at the scene and later pronounced dead.
The rear semi was split open causing 50 gallons of milk and diesel fuel to splatter across the highway.
Hazmat and Caltrans crews were still cleaning the highway at 6 p.m. By a little after 7 p.m., the roadway was reopened.