This is an archived article and the information in the article may be outdated. Please look at the time stamp on the story to see when it was last updated.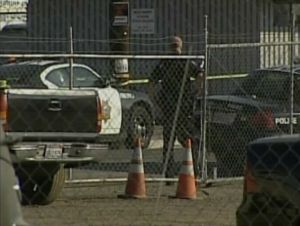 FRESNO (CNN)-
An employee of Apple Valley Farms in Fresno, California, opened fire on his co-workers Tuesday, killing one and wounding three others before shooting himself, police said.
Two victims are in critical condition; one is in serious condition and expected to survive, Fresno Police Chief Jerry Dyer said.
The alleged gunman, 42-year-old Lawrence Jones, is in critical condition, police said.
Jones has an extensive criminal history, authorities said.
He was found outside the plant with a gunshot wound to the head, police said. The victim in serious condition was a 32-year-old woman who was also found outside. She had a gunshot wound in the lower back.
The two victims in critical condition were found inside the business. One, a 34-year-old man, appeared to have a gunshot wound to the head; the other, a 28-year-old man, had been shot in the neck, police said.
A 32-year-old man with a gunshot wound to the head was pronounced dead at the scene.
Jones had worked at Apple Valley Farms for 14 months, police said. According to a co-worker, when Jones came to work this morning "he did not appear to be himself," Dyer said. About 3 1/2 hours later, he pulled out a handgun and opened fire, shooting four people, police said.
Authorities don't know what may have provoked the attack.
As many as 30 workers were inside the business at the time, police said.
Community Regional Medical Center in Fresno told CNN it received four patients from Apple Valley Farms.
The business identified by authorities as Apple Valley Farms apparently goes by the name Valley Proteins. Calling a phone number listed on a website as being for Apple Valley Farms led CNN to a voicemail for Valley Proteins, which said there was an emergency and that the business was closed for the day. Police also mentioned that some of the reports they received about the shooting used the name Valley Proteins.
On its website, Valley Proteins says it develops animal and pet food ingredients.
The-CNN-Wire/Atlanta/+1-404-827-WIRE(9473)
™ & © 2012 Cable News Network, Inc., a Time Warner Company. All rights reserved.