This is an archived article and the information in the article may be outdated. Please look at the time stamp on the story to see when it was last updated.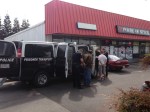 MODESTO-
Police in Modesto arrested 12 people Thursday in an illegal gambling bust.
Warrants were served at two businesses along McHenry Avenue. The storefronts were advertised themselves as offering computer and office services, but police say they were actually fronts for illegal online gambling.
Twenty-nine computers and $3,460 in cash were seized from a business called Andthen.com. Thirty-five computers and $3,900 from a business down the street called LinkNet.
The bust was preceded by a two-month investigation. Police had gotten complaints that public intoxication, fighting and gang activity were constant problems near the businesses.