This is an archived article and the information in the article may be outdated. Please look at the time stamp on the story to see when it was last updated.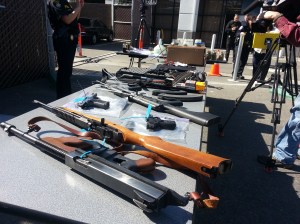 WEST SACRAMENTO-
More than 80 home burglaries and 51 car break-ins can be attributed to a ring of about a dozen people, according to a joint investigative unit who just made the busts; including piles of drugs, weapons and cash.
The string of robberies, stretching from December 2012 to this month, was centered in West Sacramento and a few outlying regions in Yolo County.
"Operation Red Bandits" resulted in at least 13 arrests, of men ranging in age from 16 to 20 years old. All are believed to be members of the Norteno street gang. They face multiple felony charges including drugs, property and robbery counts.
During Wednesday's busts, officers confiscated three rifles, four handguns, five pounds of marijuana, methamphetamine, ammunition, body armor, and an active honey oil lab.
Also, three locations had young children present who are now in possession of CPS.
"Operation Red Bandits" involved officers from West Sacramento, Yolo County, CHP, the Department of Justice, Davis Police, and the FBI.
This slideshow requires JavaScript.