This is an archived article and the information in the article may be outdated. Please look at the time stamp on the story to see when it was last updated.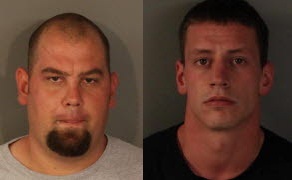 ROSEVILLE-
Two men are in police custody after being spotted hanging around Oakmont High School in Roseville.
A person living nearby called police to report suspicious activity Wednesday morning. Officers found two men in their 20s along Chelsea Way, reportedly looking as if they had jumped over a fence.
The two were identified as having outstanding warrants, and were arrested.
The officers checked the backpack they were carrying and found items believed to have been stolen from the neighborhood along South Cirby.
Tyler William Bird, 28, and Ryan Cameron Tuccelli, 26 were arrested and both face possession of stolen property charges. Tuccelli also violated his parole.
Anyone living in that area who may have had something stolen Wednesday is asked to call Roseville Police at (916) 774-5000.