This is an archived article and the information in the article may be outdated. Please look at the time stamp on the story to see when it was last updated.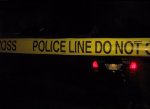 SACRAMENTO COUNTY-
Three men are facing charges of killing a 60-year-old Sacramento County man while robbing him of marijuana.
Sacramento County Sheriff's deputies arrested Daniel Valine and Justin Valine Wednesday, and tracked down Kailan James in Phoenix, Arizona. All three face charges in connection with the October 27th shooting death of Kelly McClurg.
McClurg was found near Dillard Road and Highway 99 inside a home.
Investigators believe the three suspects knew McClurg and were at the home to take his marijuana. During the robbery, the older man was shot and killed.
Anyone having further information regarding this incident is asked to contact the Sheriff's Homicide Bureau at (916) 874-5115.