This is an archived article and the information in the article may be outdated. Please look at the time stamp on the story to see when it was last updated.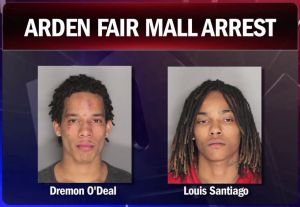 SACRAMENTO-
It's quiet at Arden Fair Mall Thursday morning, a completely different scene after a mall brawl led to widespread panic.
Officers have booked two men and one teen into jail in connection with Wednesday night's chaotic incident.
Dremon O'Deal, 19, and Louis Santiago, 18, face disturbance charges for fighting in a public place. The teen faces similar charges.
Wednesday evening, the three men were involved in a large fight in the food court at the Sacramento area mall.
The fight led to a large sign falling, causing a noise that many thought sounded like gunfire. In light of recent shootings and gun scares around the country, many shoppers panicked and ran for their lives.
The mall was locked down for about an hour until officers could control the situation.