This is an archived article and the information in the article may be outdated. Please look at the time stamp on the story to see when it was last updated.
STOCKTON –
A man opened fire on three women early Saturday after the women refused to have sex with him and his friends, according to the Stockton Police.
Authorities said the women accompanied the men to Rosemarie Lane, near Pacific Avenue and March Lane. Around 1:45 a.m., the women declined when the men asked them to have sex, and the men ordered them to leave.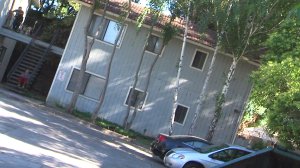 As the women were leaving, one of the men fired about eight rounds from a 9mm handgun at them, but no one was injured.
Police say the gunman was identified as Keith Binder, 21. They do not have names for the other two suspects, but were told their nicknames are "Little D" and "Little Eggy."
They fled the area in a green, late-1990s model Pontiac Grand Prix and a gold, late-1990s model Toyota Camry.
If you know any other information regarding this case, you can call the Stockton Police at (209) 937-8377.
Greg Cotta filed this report.
READ: Teen Says Man Kidnapped Her, Forced Her into Prostitution