This is an archived article and the information in the article may be outdated. Please look at the time stamp on the story to see when it was last updated.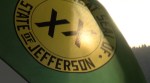 GLENN COUNTY-
A third county has now voted to withdraw from the State of California, and form a new State of Jefferson. A fourth county will put the decision to its residents on the June ballot.
Tuesday morning, the Glenn County Board of Supervisors voted unanimously to adopt a declaration and petition to join the new state. Glenn County is northwest of Sacramento and includes the cities of Willows and Orland, and part of the Mendocino National Forest.
The reason for the decision boils down to one word, "representation", according to Steve Soeth, Glenn County Board of Supervisors Vice Chairman.
He told FOX40, in the middle of last century, when representation in Sacramento became decided on population and not county-by-county, rural areas lost their share of voice at the state legislature.
They say their assembly member represents almost 450,000 people, but a surface area that stretches across five counties reaching from north of Red Bluff to south of Yuba City.
By comparison, Assemblyman Ken Cooley represents more than 460,000 people in Sacramento County, according to WeDrawtheLines.ca.gov.
"This is not about keeping our water, water is governed by federal regulations," Soeth told FOX40. "We hope to form a new state, set up a form of state government that works better for us."
Glenn County joins Modoc and Siskiyou counties in adopting the declaration and petition to withdraw from California. Siskiyou and Modoc run along the Oregon border.
"(This is) a chance to start over, pull ourselves up by our bootstraps, show that Northern California can take care of ourselves," said Soeth.
And now they wait; once there are about a dozen counties who adopt a similar declaration to withdraw from California, they can start talking about specifics for the new state, including what it will be called. Soeth said there are still a lot of details that need to be worked out, but "we would be more streamlined with state agencies".
To read the declaration and petition the Glenn County Board of Supervisors approved, click here.
The effort is a revival of a State of Jefferson movement in 1941. Organizers are talking to 18 counties about joining the new state. Read more about their efforts here.
Tehama County's Board of Supervisors voted to put the issue on the June ballot for their residents to vote on.
Campaign for 51st State Gains Followers