This is an archived article and the information in the article may be outdated. Please look at the time stamp on the story to see when it was last updated.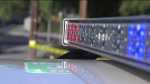 STOCKTON-
Stockton Police say four people were shot, one fatally, at Constitution Park late Wednesday afternoon.
Three victims were rushed to the hospital. Their condition was not immediately known.
Investigators have not released any information about a motive or possible shooters.