This is an archived article and the information in the article may be outdated. Please look at the time stamp on the story to see when it was last updated.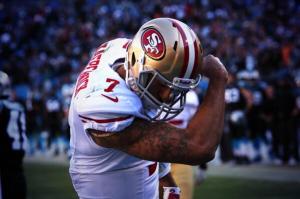 CHARLOTTE, North Carolina-
The 49ers beat the Carolina Panthers Sunday, 23-10. They now head to Seattle for the NFC Championship game.
The 49ers scored first, with a 49-yard field goal. They got another field goal before Carolina answered with a touchdown to start the second quarter.
Will Tukuafu was hit hard on his first career reception early in the game, injuring his knee.
An incomplete pass call at the end of the second quarter riled coach Harbaugh, whose comments to the refs were called "unsportsmanlike conduct". After review, the call on the field was reversed and ruled a touchdown for the 49ers.
Going into the second half, the 49ers led 13-10. Kaepernick ran it in himself for another touchdown in the third quarter, increasing their lead. Then a field goal, to make the game 23-10 in the fourth quarter, where it stayed.
Seahawks Won't Sell NFC Championship Tickets to California 49ers Fans