This is an archived article and the information in the article may be outdated. Please look at the time stamp on the story to see when it was last updated.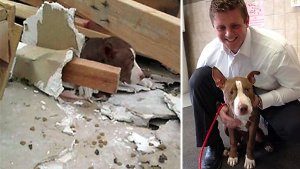 WASHINGTON, Ill. (Los Angeles Times) — Nine days after a tornado destroyed Jacob Montgomery's apartment in Washington, Ill., rescue workers found his 6-month-old pit bull in the wreckage, coaxing him out with hot dogs, Illinois National Guard officials reported.
Montgomery, a military police officer with the Illinois National Guard, survived the Nov. 17 disaster but couldn't find his dog Dexter after searching several times in the rubble of what used to be his third-floor apartment, the National Guard reported on Facebook.
On Tuesday, Montgomery got a Facebook note on his smartphone from a neighbor.
"I've got your dog right here," the neighbor wrote.
The neighbor had been searching for his cat with an animal rescue group when they discovered Dexter partly buried in the rubble.
The neighbor knew whose dog it was because of the photos Montgomery had posted on social media.
"As soon as I heard, I went straight there," the National Guard reported Montgomery as saying. "As soon as Dexter saw me, his tail started going."
As a National Guardsman, Montgomery is trained to respond to emergencies, but he had never been a disaster victim himself, Montgomery told the National Guard.
"I am lucky," he told the National Guard. "All I had in my apartment is gone, but my dog was all I really had to worry about."
Montgomery is currently staying with a friend near Peoria, Ill., until he can find a new apartment for him and Dexter, the National Guard said in a statement.
Read more here.