This is an archived article and the information in the article may be outdated. Please look at the time stamp on the story to see when it was last updated.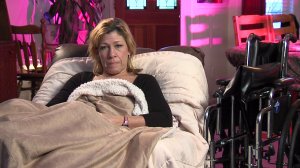 HOPE VALLEY-
After being stranded for nearly a week in the Sierra, Paula Lane was brought to Sorensen's Resort along Highway 88 for help according to 911 calls.
In a 911 call from December 5th obtained by FOX40, an employee from Sorensen's reports that Lane and her brother have just come in seeking help. Hear the call on FOX40 News at 6 p.m.
The unidentified employee and Lane's brother, Gary, quickly answer health questions for the dispatcher as emergency crews get on the road.
"We have her by the fire, in blankets," the employee tells the dispatcher. Gary and his friend had to cut off her shoes, and knew she had frostbite.
The dispatcher then walks the employee through some first aid warnings "Don't let her have anything to eat or drink … tell her to be still and wait for help to arrive. I want you to watch her very closely."