This is an archived article and the information in the article may be outdated. Please look at the time stamp on the story to see when it was last updated.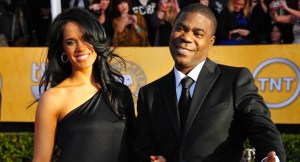 ROBBINSVILLE, New Jersey (CNN)-
Actor and comedian Tracy Morgan was in critical condition after a six-vehicle accident in New Jersey early Saturday, his publicist said.
Morgan's condition was not expected to change Saturday, publicist Lewis Kay said. "His family is now with him and he is receiving excellent care."
The former "Saturday Night Live" cast member and "30 Rock" star was riding in a limo bus when the accident occurred in Mercer County, said Sgt. Gregory Williams of New Jersey State Police.
The limo bus overturned at the New Jersey Turnpike in Robbinsville, he said.
"The limo bus is the only vehicle that overturned," Williams said. "Looks like one of the tractor-trailers may have rear-ended that limo bus, but that's preliminary at this time."
Williams said he does not believe alcohol played a role in the accident, but that is under investigation.
In addition to the bus, the wreck involved two tractor-trailers and an SUV, he said.
"Shocked to wake up and read that @RealTracyMorgan is injured. Love to Tracy and wishing him strength," former SNL cast member Rachel Dratch said via Twitter.
One person was killed and seven others hospitalized with injuries, authorities said.
Police identified the man who was killed as James McNair, 63, of Peekskill, New York. McNair was a passenger in the limo bus.
Peter Haigney, a spokesman for Robert Wood Johnson University Hospital, said four patients were being treated there. Three were in critical condition and one was in fair condition.
Morgan, 45, performed a comedy tour act Friday night at the Dover Downs Hotel & Casino in Dover, Delaware, the venue said.
"Come on @RealTracyMorgan pull through this buddy," tweeted actor Ike Barinholtz of "The Mindy Project."
The-CNN-Wire
™ & © 2014 Cable News Network, Inc., a Time Warner Company. All rights reserved.