This is an archived article and the information in the article may be outdated. Please look at the time stamp on the story to see when it was last updated.
STOCKTON–
A marathon prayer rally took place in Stockton on Monday which was hosted by Mayor Anthony Silva in an effort to combat crime.
The community, desperately hoping to bring an end to the violence. The rally took place one day after a 6-year-old girl was shot. It happened in the 100 block of East First Street on Sunday.
Hand-in-hand with heads bowed down, people from all different backgrounds and religions pray with a single goal in mind in Downtown Stockton.
"This prayer rally is about getting the community to come together for a shared goal of making this city safe," Mayor Silva said.
The words of peace and faith are spoken with a hint of urgency. It's a call for action less than 24 hours after a 6-year-old girl was shot across town.
"Well, it sounded like gunshots, you know. 'Pop, pop, pop, pop, pop,'" Jessica Cuevas, a Stockton resident who heard the gunshots told FOX40.
Cuevas heard the shots near East First and El Dorado Streets around 10 pm on Sunday.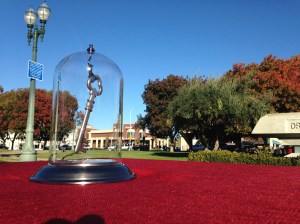 "Like fast. It happened fast. All I heard was with the five gunshots and then all of a sudden I opened the window and the truck sped by," she said.
A friend of the victim's family told FOX40 off-camera the girl, who is only 6 years old, was picking up food. It was when she was walking back to her mother's SUV that multiple shots were fired. One hit the girl.
Cuevas knew someone was shot but didn't know just how young the victim was until we told her.
"Makes me want to cry," Cuevas said. "I have a 13-year-old."
Back to the prayer circle, residents continued their calls for God's grace.
"I want a peaceful end of the year and I think that's what we can accomplish here tonight," the Mayor said.
A peaceful gathering in a city often times riddled with violence.
Investigators have not released a motive but did release they are on the lookout for an older model 2-door white Saturn that may have been involved. The suspect is described as a thin Hispanic man in his 20s who was wearing a beanie.
The Stockton Police Department also increased their force in an effort to fight the violence. They introduced about a dozen new officers the same day as the prayer rally.
Chief of Police Eric Jones said they're hoping to hire 445 officers by July 2016. Right now, they have 391 police officers on staff.
"It's not necessary the 'solves-all' solution but there is a threshold of a certain amount of police officers you need in uniform out visible within the community," Chief Eric Jones explained.
As part of the prayer rally the Stockton mayor also gave the key to the city to God.