This is an archived article and the information in the article may be outdated. Please look at the time stamp on the story to see when it was last updated.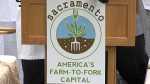 SACRAMENTO-
This year was declared Sacramento's year of food, and agriculture plays an important role in the Capitol City's economy.
Wednesday, representatives from both the cultural and social aspects of food will talk about how agriculture is an economic driver in the Sacramento Valley.
The panel of experts includes restaurant owners, farmers, and a food technology professor.
A live stream of Wednesday's event, hosted by the Metro Chamber can be found on FOX40.com/live starting at 11 a.m.
The event is part of Sacramento's Farm to Fork initiative, culminating in a festival at the end of September.