This is an archived article and the information in the article may be outdated. Please look at the time stamp on the story to see when it was last updated.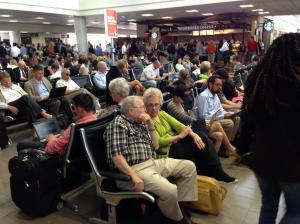 LOS ANGELES (KTLA)-
All flights were temporarily grounded at Southern California airports on Wednesday afternoon due to ground stop issued by the FAA because of technical problems at a regional air traffic control facility.
The "ground stop" was announced by LAX on Twitter at 2:13 p.m., and the airport referred questions to the Federal Aviation Administration, which t issued the order.
The FAA said it was "gradually restoring the system" at about 3:30 p.m.
The stop was "due to computer issues," Los Angeles International Airport stated on Twitter.
Flights were also grounded at Bob Hope Airport in Burbank, John Wayne Airport in Santa Ana, Long Beach Airport and Ontario International Airport, representatives of those airports confirmed.
Burbank reported it had received word from the FAA control tower that the ground stop was lifted, the airport stated on Twitter at 3:22 p.m. Ontario airport also reported the ground stop was lifted a few minutes later.
FAA spokesman Ian Gregor said he was working to gather details and recommended passengers check fly.faa.gov. The website showed delays of similar length at LAX, Las Vegas airport and Salt Lake City International Airport.
"The FAA's Los Angeles Center air traffic control facility experienced technical issues and stopped accepting additional flights into the airspace managed by the facility for about an hour," Gregor later said in a brief statement, issued at about 3:30 p.m.
A FOX40 crew is among those stranded at LAX. Hear more from Dennis Shanahan tonight on FOX40 News.
https://twitter.com/dennis_shanahan/status/461633772966785026
https://twitter.com/flyLAXairport/status/461624753850036224
https://twitter.com/BobHopeAirport/status/461624558672297985 
https://twitter.com/JohnWayneAir/status/461621154705195008