This is an archived article and the information in the article may be outdated. Please look at the time stamp on the story to see when it was last updated.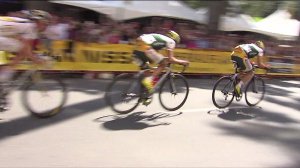 SACRAMENTO-
The Amgen Tour of California is returning to Sacramento.
The city's Convention & Visitors Bureau announced Tuesday that 2014's race will start in Sacramento.
Sacramento played host to stage finishes in 2007, 2008, 2010 and 2011. It also hosted 2009's prologue.
The tour is expected to make an economic impact of more than $8 million to Sacramento, officials said.
The Amgen Tour will kick off May 11.
"We are very excited to welcome the Amgen Tour of California back to Sacramento," Sacramento Convention and Visitors Bureau President and CEO Steve Hammond said in a written statement.  "While this event brings significant and measurable economic impact to the region, it also offers tremendous marketing and exposure opportunities for Sacramento that position California's Capital City in a very positive light."
Learn more about the Amgen Tour by clicking here.