This is an archived article and the information in the article may be outdated. Please look at the time stamp on the story to see when it was last updated.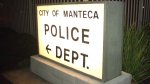 MANTECA-
Manteca Police are taking threats seriously after "Anonymous," a widely known "hacktivist" group, threatened to hack into the police department's public website.
On their YouTube channel, "Annonymous" shows video of Ernesto Duenez Jr. being shot and killed by Manteca Officer John Moody while demanding he be fired.
"Otherwise, Annonymous users will act appropriately with the inevitable shutdown of the official website," said someone on the site, disguised in a Guy Fawkes mask.
The Manteca Police Department told the Manteca Bulletin that they view this as a valid threat.
The threat comes a little more than a week after Moody was cleared of any wrong doing in the 2011 shooting, where he fired more than a dozen rounds at Duenez.
Since his death, many supported the Duenez family, but never has there been a threat of this magnitude.
The Duenez family says while they appreciate the support, they do not condone any illegal activity.