This is an archived article and the information in the article may be outdated. Please look at the time stamp on the story to see when it was last updated.
ALTURAS-
Investigators worked through the night and into Friday morning, trying to find clues as to why four people were shot dead, and two others left injured.
An eviction hearing for 44-year-old Cherie Lash Rhoades was being held Thursday night inside the Cedarville Rancheria Tribal Office in Alturas, in Modoc County.
Police say Rhoades opened fire during the hearing, killing a 19-year-old woman, 30-year-old man, 35-year-old woman and a 50-year-old man. Two others, sisters, were shot at and injured.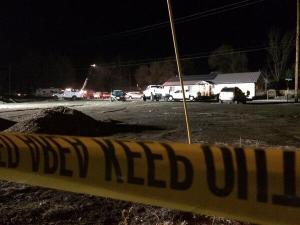 "She had exited the building and had armed herself with a large kitchen knife and was chasing the victims she had shot down the street," Chief of Alturas Police, Ken Barnes said.
Both girls were flown to a hospital in Redding; one was critically injured, the other is doing ok and is giving statements to investigators.
Barnes mentioned a judge was listening to the eviction hearing over the phone, and heard the shooting.
Police say the crime scene is so large it will take at least another full day to proess all the evidence.