This is an archived article and the information in the article may be outdated. Please look at the time stamp on the story to see when it was last updated.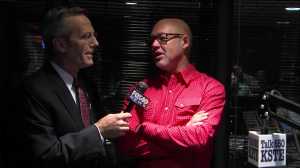 SACRAMENTO-
Armstrong and Getty returned to the airwaves Thursday morning, starting their morning radio show with the Muslim call to prayer.
The duo was off the air Tuesday and Wednesday mornings, and their Monday morning podcast was removed from their website. The move prompted speculation that the pair was given the days off in reaction to comments they made Monday.
However, Armstrong reached out to FOX40 first Wednesday night and again Thursday, saying their absence from radio was not because of their comments. He said it was an internal affairs issue that management asked them not to talk about.
In reaction to the US Government's apology for an American-made anti-Islam film that reportedly sparked protests in the Middle East, during Monday's show, Armstrong encouraged people to make anti-Muhammad ads and post it to Al Jazeera.
FOX40 was at KSTE's studios when Armstrong and Getty started their show Thursday morning, after the traditional Muslim call to prayer, the pair continued to make jokes about the flack they got for their opinions.
Proving their radio absence was not related to their comments on Monday, they expanded on their earlier comments, saying during their live show "I still think if our official US policy is to apologize for every Youtube video that comes out, we're going to be doing a lot of apologizing, cuz there will be a lot of videos coming out over the years, we've got to come up with a better stance than that. On the other hand, I thought it was nice that there was no organized boycott by some of the various Muslim groups around. They said 'you know what, we don't agree, but we believe in free speech'."