This is an archived article and the information in the article may be outdated. Please look at the time stamp on the story to see when it was last updated.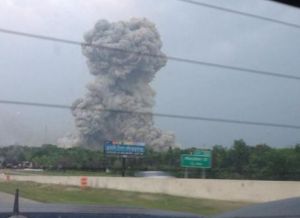 WEST, Texas (CNN)-
A massive explosion at a fertilizer plant in the small Texas town of West left at least two people dead, leveled several homes and prompted a widescale evacuation in the community of 2,600 people.
"It was a like a nuclear bomb went off," Mayor Tommy Muska said. "Big old mushroom cloud. There are a lot of people that got hurt. There are a lot of people that will not be here tomorrow."
Fire officials fear that the number of casualties could rise as high as 60 to 70 dead, said Dr. George Smith, the emergency management system director of the city.
"That's a really rough number, I'm getting that figure from firefighters, we don't know yet," he said.
"We have two EMS personnel that are dead for sure, and there may be three firefighters that are dead."
Fireball in the sky
The blast took place at the West Fertilizer Plant, about 18 miles north of Waco, about 8:50 p.m. ET.
It sent a massive fireball into the sky. Flames leaped over the roof of a structure and a plume of smoke rose high into the air.
"There are lots of houses that are leveled within a two-block radius," Smith said. "A lot of other homes are damaged as well outside that radius."
He estimated that between 10 to 15 buildings were demolished and about 50 damaged.
And the danger may not be over.
Risk remains
Residents are being evacuated because officials are worried that another tank at the facility might explode.
"What we are hearing is that there is one fertilizer tank that is still intact at the plant, and there are evacuations in place to make sure everyone gets away from the area safely in case of another explosion," said Ben Stratmann, a spokesman for Texas State Sen. Brian Birdwell.
Firefighters at the scene said they were concerned about anhydrous ammonia, a pungent gas with suffocating fumes that is used as a fertilizer.
When exposed to humans, it can cause severe burns if it combines with water in the body.
And exposure to high concentrations can lead to death.
The scene
State troopers in gas masks set up roadblocks, waving away cars coming off the highway.
The Federal Aviation Administration instituted a flight restriction over the town. Schools will be closed for the rest of the week, and officials urged everyone to stay away from school property.
Shortly after the explosion, more than 60 patients streamed into Hillcrest Hospital in Waco, suffering from "blast injuries, orthopedic injuries (and) a lot of lacerations," said hospital CEO Glenn Robinson.
While some of the injuries are minor, others are "quite serious," he said.
The West Fertilizer Plant is just north of Waco. A nursing home with 133 residents was near the plant.
Smith, the EMS director, said he didn't know whether there were casualties reported in the nursing home.
'It was intense'
Tommy Alford, who works in a convenience store about three miles from the plant, told CNN that several volunteer firefighters were at the store when they spotted smoke.
Alford said the firefighters headed toward the scene and then between five and 10 minutes later, he heard a massive explosion.
"It was massive; it was intense," Alford said.
Cheryl Marak, who sits on West's city council, said the impact of the blast knocked her to the ground.
"It demolished both the houses there, mine and my mom's and it killed my dog," she said.
Other residents had similar stories.
"It was like a bomb went off," said Barry Murry, who lives about a mile away from the plant. "There were emergency vehicles everywhere. It has been overwhelming."
Like many, they sought comfort in Mayor Muska's words.
"This is not the end of the world," he said. "This is a big ol' cut that we got across our hearts right now."
"But," he added, "we are strong. We will rebuild."
By Lateef Mungin
CNN's Chandler Friedman, Carma Hassan, Ed Payne, Greg Botelho contributed to this report.
The-CNN-Wire/Atlanta/+1-404-827-WIRE(9473)
™ & ©2013 Cable News Network, Inc., a Time Warner Company. All rights reserved.