This is an archived article and the information in the article may be outdated. Please look at the time stamp on the story to see when it was last updated.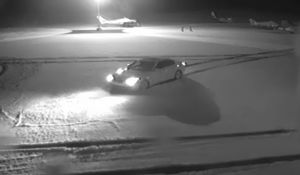 AUBURN-
Auburn Police are asking the public for help in finding a reckless driver that crashed into a parked airplane Dec. 7 at the Auburn Airport.
Investigators say the four-door BMW 5 Series sedan was driving around on the snow shortly after midnight before losing control and hitting the plane. The plane is said to have sustained serious damage.
Surveillance video shows the car fleeing the airport.
Little else is known about the incident, but officers are hoping anyone with any information will contact Detective Sergeant Dale Hutchins at (530) 823-4237 ext. 207.