This is an archived article and the information in the article may be outdated. Please look at the time stamp on the story to see when it was last updated.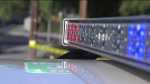 AUBURN-
Placer County Sheriff's deputies say a man tried to rob a Raley's pharmacy Saturday morning in Auburn.
The person walked into the store around 9:19 a.m. and passed a note demanding certain pills to the clerk, investigators say. According to Sheriff's deputies, the clerk "retreated" to a safe area and the man left without anything.
Investigators describe their suspect as a white male, about 5 feet 8 inches tall, 210 pounds and between 35 and 45 years old. He was hearing a black, hooded jacket, black pants, light-colored shoes and a baseball cap with a light bill. He is also believed to be connected to a 2008-2010 gray Dodge truck that has been lifted.
The Raley's was briefly evacuated as investigators searched for the attempted thief.
Anyone with information is asked to contact the Sheriff's Office at (530) 889-7800.