This is an archived article and the information in the article may be outdated. Please look at the time stamp on the story to see when it was last updated.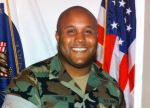 SAN BERNARDINO COUNTY-
Autopsy results on Christopher Dorner, the renegade former Los Angeles cop who authorities said killed four people and wounded three others, show he died from a single gunshot wound to the head.
Cpt. Kevin Lacy, the San Bernardino County, California, coroner, reported the results and said that authorities have not yet ruled on Dorner's manner of death.
However, information collected so far seems to suggest he took his own life.
"While we're still compiling the information and putting our reports together, the information that we have right now seems to indicate that the wound that took Christopher Dorner's life was self-inflicted," Lacy said.
The announcement came three days after a shootout, standoff and fire at a cabin in the mountains east of Los Angeles. Dorner's remains were identified during the autopsy through dental records.
The-CNN-Wire/Atlanta/+1-404-827-WIRE(9473)
™ & ©2013 Cable News Network, Inc., a Time Warner Company. All rights reserved.