This is an archived article and the information in the article may be outdated. Please look at the time stamp on the story to see when it was last updated.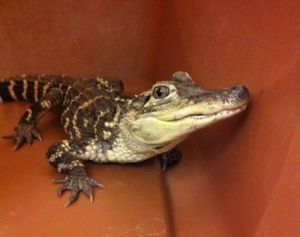 OAKLAND—
Things are looking up for a baby alligator found during the search of a home owned by two suspected drug dealers.
Officials say that the three-foot-long alligator has since been placed in the care of the Oakland Zoo.
The zoo currently has five male alligators, including one born in 1963.
Alligators are usually only found from Florida to Texas. Authorities have not said how this particular alligator came into the possession of Lori and William Riley.
Both Lori and William were arrested and booked into Solano County Jail for drugs and gun charges back on Jan. 31 after 50 pounds of marijuana and a handgun were found in their car. A search of their Fairfield home uncovered more marijuana, seven more guns and over $29,000 in cash.
The baby alligator was also found in their home.