This is an archived article and the information in the article may be outdated. Please look at the time stamp on the story to see when it was last updated.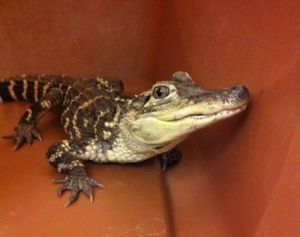 FAIRFIELD-
Not only did authorities come across a large stash of guns and marijuana in the home of two suspected drug dealers, they also found a baby alligator.
The incident happened back on Jan. 31. Originally, Vacaville Police pulled over a car with two suspects, 34-year-old Lori Riley and 37-year-old William Riley, inside.
In the car, police found about 50 pounds of processed marijuana and a handgun. The marijuana had a street value of $250,000.
Authorities then had the two take officers back to their Fairfield home. A search of the home soon uncovered more marijuana, seven more guns and over $29,000 in cash. A three-foot-long baby alligator was also found in the home.
More searches were done at two Vallejo homes as a result of the investigation. Indoor grows, with a total of over 900 marijuana plants, were found inside the homes.
Both Lori and William were arrested and booked into Solano County Jail for drug and guns charges.
The alligator has since been placed in the care of Solano County Humane Animal Services.
Below is an image of the guns and marijuana investigators seized.