This is an archived article and the information in the article may be outdated. Please look at the time stamp on the story to see when it was last updated.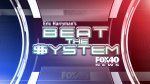 Most people say they shop by the cost, but stores know they also shop by color.
Today's Beat the System covers how retailers use color to influence shoppers.
We'll start with black. Black is often used to market luxury products because it's usually seen as powerful and sleek.
Banks tend to use blue, which has an image of dependability and trustworthiness.
Red usually means urgency, so you'll usually see it in the clearance section.
Fast food places like to use yellow, as it increases appetite and energy.
Purple, a calming color, is used to market cosmetics and beauty products.
For more on how businesses use color to market to consumers, click here for handy chart from Daily Infographic.