This is an archived article and the information in the article may be outdated. Please look at the time stamp on the story to see when it was last updated.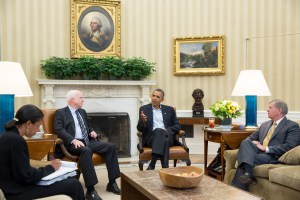 (CNN) — Top U.S. officials faced tough questions from senators about plans for military strikes Tuesday as House leaders lined up behind President Barack Obama's call to punish Syria for an August poison gas attack near Damascus.
Secretary of State John Kerry, Defense Secretary Chuck Hagel and Gen. Martin Dempsey, the chairman of the Joint Chiefs of Staff, appeared before the Senate Foreign Relations Committee as the Obama administration lobbied Congress to authorize military action against Syria. From the outset, Kerry addressed the shadow of claims offered in the buildup to the 2003 invasion of Iraq, reassuring committee members that the intelligence linking Syrian government forces to the August 21 attack was solid.
"We are especially sensitive, Chuck and I, to never again asking any member of Congress to take a vote on faulty intelligence," said Kerry, who like Hagel, voted as a senator to authorize the Iraq invasion. "And that is why our intelligence community has scrubbed and re-scrubbed the evidence. We have declassified unprecedented amounts of information, and we ask the American people and the rest of the world to judge that information."
Kerry said that intelligence includes the trajectory of the rockets used to deliver the gas, Syrian military instructions to troops to don gas masks and concerns by top Syrian officials that U.N. inspectors would discover evidence of the attack.
"Not one rocket landed in regime-controlled territory — not one," Kerry said. "All of them landed in opposition-controlled or contested territory."
Kerry said Obama isn't asking the United States to go to war — just "to degrade and deter" the capacity of Syrian President Bashar al-Assad to launch another chemical attack. But he and Hagel faced tough questions from senators concerned that giving the administration the green light to attack Syria would draw the United States into that country's civil war, now 2 1/2 years old.
"Americans are understandably weary after the fiasco in Iraq and over a decade of war," said Sen. Tom Udall, D-New Mexico. "How can this administration make a guarantee that our military actions will be limited? How can we guarantee that one surgical strike will have any impact other than to tighten the vise grip that Assad has on his power, or allow rebels allied with al Qaeda to gain a stronger foothold in Syria?"
Kerry said the administration has no intention of sending American ground troops to Syria "with respect to the civil war." But he opposed any effort to put a ban on deploying ground forces into a congressional resolution authorizing military action, leaving open the possibility that U.S. troops may have to seize chemical weapons "in the event Syria imploded" or if extremist groups were poised to obtain them.
Foreign Relations Chairman Robert Menendez, D-New Jersey, urged Congress to support the proposed strikes. But he said he and the committee's ranking Republican, Tennessee Sen. Bob Corker, would rewrite the administration's draft resolution to address some of the concerns expressed during the hearing.
Later, he released a statement saying he and Corker successfully negotiated the text of that bill.
"Together we have pursued a course of action that gives the President the authority he needs to deploy force in response to the Assad regime's criminal use of chemical weapons against the Syrian people, while assuring that the authorization is narrow and focused, limited in time, and assures that the Armed Forces of the United States will not be deployed for combat operations in Syria," he said.
"With this agreement, we are one step closer to granting the President the authority to act in our national security interest."
According to multiple Democratic sources, the Senate Foreign Relations Committee will take up the revised authorization bill Wednesday. The bill limits the authorization to 60 days, with an option for an additional 30-day deadline, and makes clear there would be no boots on the ground, the sources said.
Hagel: Risks of action, risks of inaction
Hagel said any military action "would be limited in duration and scope," and won't be aimed at settling the Syrian civil war by force. He testified that the administration's proposal would not authorize strikes outside Syria, against any other government or against non-state groups.
"There are always risks in taking action, but there are also risks with inaction," he said. "The Assad regime, under increasing pressure by the Syrian opposition, could feel empowered to carry out even more devastating chemical weapons attacks. Chemical weapons make no distinction between combatants and innocent civilians, and inflict the worst kind of indiscriminate suffering, as we have recently seen."
And Kerry warned that a failure to act would undermine American alliances, encourage other U.S. adversaries like Iran and North Korea and encourage al-Assad to use chemical weapons again.
U.S. officials have said the August 21 attack left more than 1,400 dead, and Obama said Tuesday that more than 400 of those were children. Syria denies government troops were behind the attack, arguing that they were the victims of a rebel chemical attack.
Syria's U.N. ambassador, Bashar al-Jaafari, told CNN's Christiane Amanpour that the allegations of poison gas use by his government "are false and unfounded." Al-Assad told the French newspaper Le Figaro on Monday that an attack on his country risks a regional war.
Administration officials and Obama himself have said the president has the authority to conduct military strikes even without congressional approval. But asked what the administration would do if Congress refused to authorize military action, Kerry said, "We're not contemplating that, because it's too dire."
The session was interrupted early on by a member of the anti-war group Code Pink, who shouted "The American people do not want this" as she was dragged out of the room by police.
Kerry first became famous decades ago as a former Navy officer testifying against the war in Vietnam in front of the same committee. He responded to the protest by saying that "Congress will represent the American people, and I think we all can respect those who have a different point of view."
Weapons inspectors from the United Nations are analyzing samples taken from the scene last week, but their results aren't expected to assign blame. The United States and its allies say the rebels have no capability to carry out a large-scale chemical weapons attack, however.
House leaders line up behind Obama
Earlier Tuesday, the leaders of both parties in the House of Representatives emerged from a White House meeting earlier Tuesday to support Obama's call for American strikes.
House Speaker John Boehner, R-Ohio, told reporters the use of poison gas was "a barbarous act" to which only the United States is capable of responding. House Minority Leader Nancy Pelosi, D-California, added that Washington must respond to actions "outside the circle of civilized human behavior."
But in a written statement later, Boehner said it is up to Obama "to make his case to the American people and their elected representatives" — including securing support from individual members.
"All votes authorizing the use of military force are conscience votes for members, and passage will require direct, continuous engagement from the White House," the speaker said.
No vote is scheduled before Congress returns from its summer recess on Monday. Kerry defended the delay to seek congressional authorization, saying the move gives the United States time to make its case while adding pressure on al-Assad.
"This is working," Kerry said. "There are defections taking place. There's great uncertainty in Syria. We are building support, a greater understanding, and I would far rather be playing our hand than his at this point in time."
Most of the focus of administration lobbying has been on the House. In the Senate, a Democratic source familiar with Majority Leader Harry Reid's thinking told CNN that Reid is confident any authorization measure will pass his chamber. The source said it is likely 60 votes will be needed to overcome a filibuster, and Reid thinks the votes are there.
U.N. chief calls for end to Security Council 'stalemate'
The United Nations has said more than 100,000 people — including many civilians — have been killed in Syria since a popular uprising spiraled into a civil war in 2011. Syrian opposition activists reported another 107 dead on Monday, mostly in Damascus and its suburbs.
New U.N. figures Tuesday point to the staggering impact the war has had on the nation.
The number of Syrians who have fled their war-ravaged country has risen above 2 million, the U.N. refugee agency reported, an increase of nearly 1.8 million people over the past 12 months.
But at the United Nations, Secretary-General Ban Ki-moon urged Security Council members to await test results on the samples collected by U.N. inspectors.
"We should avoid further militarization of the conflict and revitalize the search for a political settlement," Ban said. "I take note of the argument for action to prevent further uses of chemical weapons. At the same time, we must consider the impact of any punitive measure on efforts to prevent further bloodshed and facilitate a political resolution of the conflict. The turmoil in Syria and across the region serves nobody."
He urged member states to work through the Security Council, where Syrian allies Russia and China are expected to block any call for military action.
"The Security Council has a duty to move beyond the current stalemate and show leadership," Ban said. "This is a larger issue than the conflict in Syria. This is about our collective responsibility to humankind."
And al-Jaafari, the Syrian envoy, told CNN that all Syrians will be victims "of any escalation of the situation."
"We don't need wars. We need peaceful settlement of conflicts according to the charter of the United Nations," he said.
During Tuesday's hearing, Udall questioned whether the United States should be doing more to pressure Russia and China rather than going around the Security Council. Kerry said the Russians refused to sign off even on a resolution condemning a chemical attack that didn't assign blame.
"That doesn't mean we should turn our backs and say there's nothing we can do," Udall said.
But Kerry responded that if the Security Council is being blocked, "That doesn't mean we should turn our backs and say there's nothing we can do."
U.N. inspectors await test results
U.N. weapons inspectors left Syria on Saturday with samples that will help determine whether chemical weapons were used in the August 21 attack. Those samples will all be at laboratories by Wednesday and will be tested "strictly according to internationally recognized standards," Ban told reporters at U.N. headquarters.
Those tests could take up to three weeks — and even then, those tests will only determine whether a gas attack took place, not who was behind it.
"If confirmed, the use of chemical weapons by anyone, under any circumstances, will be a serious violation of international law and an outrageous war crime," Ban said.
Kerry said Sunday that hat blood and hair samples taken from medics at the scene of the alleged attack point to the nerve agent sarin. The samples reached U.S. hands "through an appropriate chain of custody, from east Damascus, from first responders," he said.
But David Kay, the former head of the U.S. weapons hunt in Iraq, said the "shadowing effect" of that war makes the U.N. inspectors' jobs more difficult.
"Remember, these results will be analyzed and re-analyzed around the world," said Kay, the former U.N. weapons inspector who ultimately determined Iraq had dismantled the chemical, nuclear and biological weapons programs used to justify the American-led invasion in 2003. "So as an inspector, you want to get it right rather than necessarily get it quick"
Kay told CNN the question has been settled for the Obama administration "and for many Americans, including myself. But that's not enough, because of Iraq."
By Matt Smith, Josh Levs and Laura Smith-Spark
CNN's Ed Payne, Barbara Starr, Elise Labott, Alla Eshchenko, Michael Schwartz, Evan Perez, Dana Bash, David McKenzie, Ashley Killough, Sarah Chiplin, Khushbu Shah, Mohammed Tawfeeq, Sandrine Amiel and Niki Cook contributed to this report.
The-CNN-Wire
™ & © 2013 Cable News Network, Inc., a Time Warner Company. All rights reserved