This is an archived article and the information in the article may be outdated. Please look at the time stamp on the story to see when it was last updated.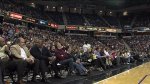 SACRAMENTO-
Kings fans have had to deal with a lot over the years.
The losing seasons.
The poor coaching hires.
The arena debacle.
The unknown future.
Bad business decisions has left the Maloof family in the red and it has had a ripple effect. We've heard about how fans no longer want to go to games because they have no interest in lining the Maloofs' pockets. Based on the circumstances, you can't fault folks for not wanting to spend their hard-earned dollars on an ownership group with one foot out the door.
But last week things changed. Oh my, how they changed.
Read more on BleedBlackandPurple.com, including just how many basketball fans are actually left in Seattle.