This is an archived article and the information in the article may be outdated. Please look at the time stamp on the story to see when it was last updated.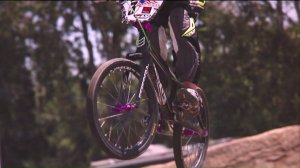 ROSEVILLE-
A BMX prodigy had her bike stolen over the weekend, Roseville Police say.
King Arthur had Excalibur. Dorothy had her ruby slippers. Brooke Grindle had her bike.
"My goal is to go to the Olympics," Grindle said.
It's a goal she been working toward since she took her first BMX ride at 4-years-old. She's now 12.
But the theft of her bike has been a bump in the road for which Grindle hasn't trained.
And this was more than just the usual two wheels and a chain. The bike was custom made for Grindle, and cost several thousand dollars. It's a bike she's been training with six days a week, sometimes six hours a day.
"It's an expensive race bike and we're just heartbroken for her," said Grindle's mom Jennifer.
Brooke has a competition in Utah coming up. She'll have to ride a borrowed bike there. But in the meantime, Roseville Police, her neighbors and the very active BMX community in Roseville will be on the lookout for the special ride with the purple axel.
There is a reward for the bike's return, no questions asked.