This is an archived article and the information in the article may be outdated. Please look at the time stamp on the story to see when it was last updated.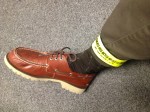 SACRAMENTO-
DAY 4:  It rained. I wimped out.
DAY 5:  Fastest bike commute yet:  19 minutes, 55 seconds.
Interesting challenges today. I'm riding faster, and I almost ran over a squirrel, on my bike. I think he didn't think I was really going that fast.   Then, a near collision. What's the etiquette when two bike commuters (okay, one real bike commuter, and me trying to see if I can earn that title), come to a stop sign?
Neither of us is truly planning to stop, and we each sort of half-swerved out of the way while doing the customary head nod of, "yeah, we're cooler than those dudes in cars, whassup!?"
Next time, I'll slow down more and follow my new bike commuter rule:  "ALWAYS YIELD TO THE DUDES IN SPANDEX."