This is an archived article and the information in the article may be outdated. Please look at the time stamp on the story to see when it was last updated.
SACRAMENTO–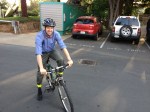 May is Bike Month, and on a challenge from the FOX40 morning producers, I'm seeing if I can ride my bike to work all month.  I'm the News Director at KTXL FOX40, so yes, the boss is arriving in the newsroom each morning with shorts, a t-shirt, and usually some other nerd-like items, like reflective ankle bands.  Cycle Chic.
DAYS 7 & 8: Getting faster.  Got the commute down to under 20 minutes.  How? a) I'm going faster, b) I'm learning how to ride in traffic better, and not sit at lights, c) I've been late, and have had to race in, literally.
DAY 9: Tried a different route. Big mistake.  Got onto Stockton Boulevard for about a miles, and it was not pleasant.   Also, many people on Stockton Boulevard ride AGAINST traffic, making it a bit challenging to dodge on-coming cyclists while sharing the road with fast-moving traffic.