This is an archived article and the information in the article may be outdated. Please look at the time stamp on the story to see when it was last updated.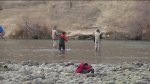 SACRAMENTO-
The California Fish and Game Commission voted unanimously to ban fishing on the American River from Nimbus Dam to Ancil Hoffman Park.
The move was prompted by low water levels and the stress put on endangered salmon and steelhead trout caused by fishing.  Parts of the Russian River also included in the ban.
Various species are more fragile than in previous droughts.
"We now have all of these populations of salmon and steelhead that are on one or both of the federal or state endangered species lists," said Stafford Lehr, Chief of Fisheries for the Department of Fish and Wildlife.
Sportfishing groups reluctantly supported the ban.
"I'd rather be out on the river fishing, but I know that would be bad for the fishery," Lowell Ashvaugh said. He represents 1,300 members of the Federation of Fly Fishers.
Native American fishing guide and fish advocate Tyrone Gorre is looking long-term.
"I'm more (concerned about ) losing the natural resource than I would be to actually just lose one year of clients," said Gorre.
The condition of spawning fish and young fish ready to head out to sea will be monitored everyday until the commission's next meeting at the end of April.
"If we get rain and flows increase then we can lift some of those restrictions and allow people to fish if conditions permit," said commission president Michael Sutton.
But if things don't improve, additional restrictions could be placed on fishing. That may include portions of the Yuba and Feather Rivers which are not affected by today's decision.