This is an archived article and the information in the article may be outdated. Please look at the time stamp on the story to see when it was last updated.
SANTA CLARITA VALLEY, California (KTLA)—
A 15-year-old was arrested Sunday on suspicion of posting death threats on Instagram that contained images of guns and dead bodies alongside claims that they would shoot Santa Clarita Valley high school students and make families suffer, Santa Clarita Valley Sheriff's Station Lt. Tom Bryski said.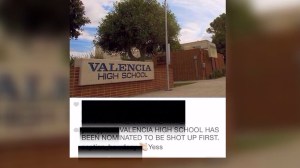 "We want people to know that we are looking into this, we take it seriously, and we've already discovered that those photos are not real, they are stock (images)," Cambra said around 7:30 a.m.The Santa Clarita Valley Sheriff's Station received at least 25 calls beginning around 10 p.m. Saturday from concerned citizens who had seen the threats, Los Angeles County Sheriff's Department Lt. Brenda Cambra.
The minor who was arrested attended a Santa Clarita Valley school and appeared to have made the threats to get a reaction from friends, a Sheriff's Department news release stated.
No firearms were found at the 15-year-old's home, and the minor appeared to have acted alone.
Making criminal threats was a felony even if the posts were a hoax, according to officials.
"We are aiming our guns mostly at high school students … blood will be shed and families will suffer," a post stated, next to a photo of multiple guns.
There was no evidence that the person who posted the images had access to the guns pictured because the photos were stock images obtained online, Cambra said.
"Valencia High School has been nominated to be shot up first," one post stated, alongside an image of the campus's marquee.
The image was discovered to be of a similarly named school not located in the Santa Clarita Valley, Cambra said.
"Slow and painful deaths will happen on a very dreadful day. I must not tell you which day it will be, you will find out yourself," another post stated.
Threats were also of a racist and sexist nature, Cambra said.
"Death makes the world go round," a third post stated, paired with an image of dozens of people who appeared to have been shot execution style.
The Instagram account had since been deleted. Officials stated that the social media site had assisted with the investigation.
Read the rest of this story on KTLA.com by clicking here.