This is an archived article and the information in the article may be outdated. Please look at the time stamp on the story to see when it was last updated.
BAKERSFIELD (KERO)-
A California couple married for 62 years died within a few hours of each other, unable to be apart even in death.
It was fate that brought Don and Maxine together. Don was born in North Dakota, and his career brought him to Bakersfield, where he met Maxine at a bowling alley.
The pair were married, and became involved with their community; rotary, YMCA, the Boys and Girls Club and the community racket club.
They traveled the world together and adopted two sons along the way.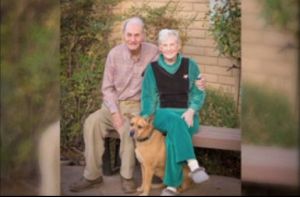 More than 60 years together, when last week Don broke a hip after a fall. He was taken to the hospital, but his health was declining.
At the same time, Maxine's cancer she had battled for years, suddenly progressed.
"We transferred them here, and put them together, we had their beds side-by-side," Melissa Sloan, a granddaughter, said. "And grandma woke up and saw him, and they held hands and they knew that they were next to each other."
Then, shortly after, the couple that had accomplished so much together, died together.
"Seven o'clock, I could hear through the monitor, her take two last breaths and I came down and checked on her, and she had passed," Sloan said.
Maxine's body was removed from the room.
"I walked them out with her body walked back in to check on grandpa and he quit breathing. As soon as her body left the room, he left with her," Sloan said.
Always together, in life and in death.