This is an archived article and the information in the article may be outdated. Please look at the time stamp on the story to see when it was last updated.
SACRAMENTO-
In two chairs across from a certified enrollment specialist, Laura Rodriguez and her mother are signing up for Covered California health insurance via the Central Valley Health Network, a third party company assisting people with Covered California.
"We've been without health insurance, basically, all of our lives," Rodriguez told FOX40.
The 25-year-old from Elk Grove has never gotten one of those "good job" stickers from her pediatrician after a checkup because she never had a pediatrician.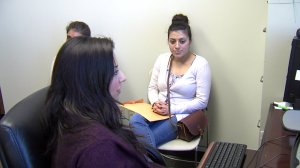 "It was kind of a fact that we just didn't have it," Rodriguez said as she and her mother signed up for health insurance Monday, the last day to enroll through Covered California.
In a press conference at Covered California headquarters, executive director Peter Lee told reporters if people start the application on or before Dec. 23, Covered California will help with the rest.
The deadline for enrolling for health insurance through the federal government's marketplace was extended 24 hours, to end at midnight on Christmas Eve. States with their own Obamacare marketplaces, like California, kept the Dec. 23 deadline.
With more than 400,000 people already enrolled according to Covered California, Lee says there are even more who don't feel comfortable enrolling online.
"One of the things we've noticed in the Latino community, is that people want to enroll in person," Lee said.