This is an archived article and the information in the article may be outdated. Please look at the time stamp on the story to see when it was last updated.
FOOTHILL FARMS-
Months after the deadly mass shooting at the Cedarville Rancheria tribal office in Alturas, family members of the suspect, Cherie Rhoades, say the crime was premeditated.
"She's a horrible woman," Cherie Rhoades' step-daughter Deborah Powers said. "She knew she was gonna kill them. She knew it. She said it here."
Powers is the daughter of Marvin Rhoades, Cherie's husband of 15 years. Marvin and Cherie were married in Alturas in 1999.
"She said she was gonna kill all of them, all of them in the tribe. I wish I would have called them people," Powers said.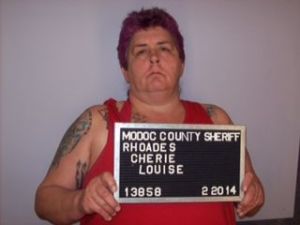 But Powers didn't call anyone. Not police, or any of the victims who were shot to death in the tribal office: Rurik Davis, Angel Penn, Glen Calonnico and Shelia Russo.
Powers claims Cherie Rhoades visited her home in Alturas back in October of 2013. Her 86-year-old father, Marvin, had been living there for years, while his wife carried on in Alturas. Powers says Cherie, her son Jack Stockton, and and his wife Erin Stockton began discussing the alleged misappropriation of funds within their tribe.
READ MORE: Man Details Alleged Embezzlement by Accused Alturas Shooter
"She went on that it pretty much was embezzlement charges. I said, 'Yeah, that's pretty big charges,'" Marvin's grandson, Brian Wall, told FOX40.
"She comes from the bathroom and says, 'I got a 9 millimeter. I got two of them. One at home and one in my car. They're not gonna get away with nothing,'" said Powers.
Powers and Wall both told FOX40 they thought Cherie Rhoades was just being a loudmouth.  They said Cherie bullied her way through life, and intimidated people.
"She said she would but I didn't, I never believed it," Marvin Rhoades said.
Marvin Rhoades says he never believed Cherie's alleged death threats because he believed in his wife.
"As I'm walking out, she's still ranting and raving about blowing them away. I'm just like, 'Oh my god, really?'" Wall said.
That makes three people who claim to have heard Cherie make death threats against tribal members, months before the tribal shooting, and chose to remain silent.
But what about the other people present during this alleged conversation?
"Jack knew what was gonna happen. He knew. He didn't show up for that meeting. He took the money from his mom. He knew what it was for. He knew," Powers said.
Powers said Jack knew he should take his mother seriously because she never lied to him.
FOX40 reached out to Jack Stockton for a comment. We have not heard back from him.
"This case is too serious and affects too many people in the community to be tried anywhere else but in a court of law […] I am asking that the public non pre-judge this case, Ms. Rhoades," Cherie Rhoades attorney, Antonio Alvarez, said in a statement to FOX40.
"I cried and I feel sorry for the girl that got killed holding her baby. There was no reason for her to kill all those people. This was over embezzlement. I know she did it," Powers said.
Alturas Police say the tribal shooting is caught on multiple cameras.
Modoc County District Attorney Jordan Funk said the Cedarville Rancheria tribal shooting is not a case of identity, but rather, whether or not the court will seek the death penalty as a punishment for the crime.